Vista Foods Awarded BRC Certificate for Agents and Brokers Following a Comprehensive Audit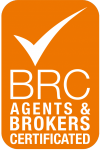 Vista Foods awarded AA BRC Certificate for Agents and Brokers following a comprehensive audit.
The AA BRC Certificate is further evidence of our commitment to excellence.
The BRC Global Standard for Agents and Brokers has been developed to provide a framework for managing product safety, quality and legality for non- manufacturing businesses in the food and packaging industries. We are proud to have achieved the highest standard of Quality Control and Food Safety by becoming BRC certified. To achieve the BRC Certification, Vista Foods has demonstrated that it meets all 12 rigorous requirements of this World Class Quality Management System.
All Vista Distributors and Retailers can be assured that they are dealing with a premium supplier of premium products dedicated to delivering consistent quality and value every time.