Perfect for a summer barbecue, for 4 servings you will need:
4 chicken fillets

½ cup orange juice

Juice of 2 limes

3 tbs honey

3 tbs olive oil

1 tsp dried oregano

1 tsp chilli powder

½ tsp garlic powder

¼ tsp salt

3 yellow/red peppers sliced

1 ½ onions sliced

8 Flour Tortillas or wraps

4 Spring onions whole

1 Avocado peeled and diced

½ cup sour cream

½ head shredded iceberg

2 tomatoes finely chopped

Your choice of salsa sauce
In a bowl combine the orange juice, lime juice, honey, 2 tbs oil, garlic, chilli, oregano, and salt. Add the chicken breasts and toss to coat, then leave to marinate in the fridge for 30 minutes.
Place the peppers and onion in a baking tray and toss in the remaining oil, then place tray on the barbecue for 5-7 minutes until softened and slightly charred.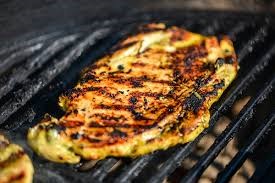 Remove the fillets from the marinade and place on the barbecue, being careful to cook fully to 75oC throughout without burning. Remove from heat, cover and leave to rest for 5 minutes before serving.
Pour the remaining marinade into a pan, bring to boil and reduce for 5 minutes.
Put the spring onions onto the barbecue for 2 minutes to warm through and slightly char, then coarsely chop. Warm the tortillas on the barbecue for 30 seconds.
Slice the fillets into strips and assemble in the tortilla with peppers, onions, a drizzle of cooked marinade, diced avocado, charred spring onion, and a dollop of sour cream. Garnish with the shredded iceberg and chopped tomatoes and a dollop of salsa sauce.
Pour a glass of your favourite chilled tipple, tuck in and enjoy.