A chocolate kebab shop located in Bray, Co. Wicklow is the first of its kind in Ireland.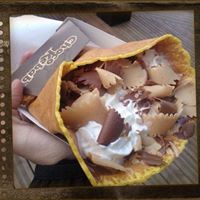 'Sprinkles' was opened by husband and wife duo serving a sweet twist on the traditional doner kebab and is highly regarded by the many locals.
In addition to the sweet, chocolatey treats, Sprinkles also serve speciality coffee, smoothies and breakfast items.
Kebabtastic!