A happy and prosperous 2016 to you. To help you hit the ground running in 2016 and get some queues forming, we have two great promotion concepts coming out that we think are going to make your chicken sales fly!
The Battered Chicken Balls Box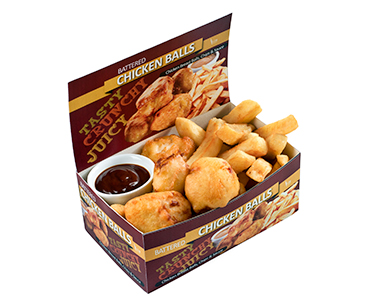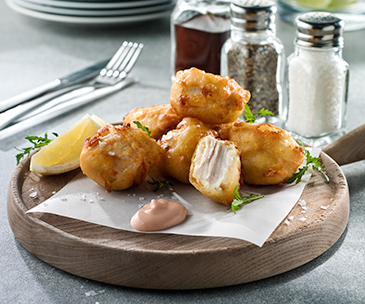 Chicken balls are actually hand cut chicken fillet chunks in a crispy Tempura batter, served with your hand cut chips and your sauce of choice in a custom designed snack box. Move over Spice Bag… the Chicken Balls Box is here.
Goes great with the chip shop curry sauce, it gives a real comfort food feel. But you can also use Sweet Chilli, BBQ, Taco, or Garlic Mayo.
Serve as a lunchtime or evening meal-in-a-box.
We supply the serving boxes and the point of sale posters, you do the cooking.
The Crispy Coat Fillet Burger Extra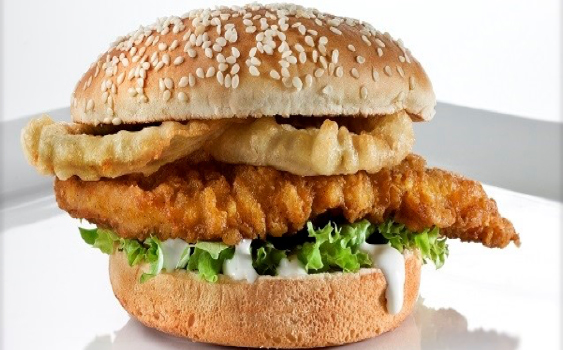 Remember making crisp sandwiches when you were younger? Well this is a grown-up variant from the takeaway … in our research, we've even heard stories of vegetarians sneaking out for one in the dead of night… honest! They really do taste that good!
Our Crispy Coat chicken fillet, in a large bun on a bed of lettuce & mayo, topped with your own freshly fried crispy battered onion rings, and slathered in tangy Taco sauce. Our taste panel was split down the middle between Taco and BBQ, but Taco just got the nod.
A great taste and texture combination, and a handsome looking burger. We've got great point of sale posters with this to help the product sell out.
Contact the office on (01) 498 3048 for more details. Limited availability of posters and boxes.