Before you ask, Mother Clucker is a street food vendor selling tea brined, buttermilk soaked, twice battered, fried chicken in London. They sell the food out of… wait for it… the Cluck Truck, which is a converted WW2 US army ambulance, and it usual lunchtime stand is in Hanbury St off Brick Lane.
TripAdvisor advises that you will wait 30-45 minutes to be served, such are the queues at lunchtime.
So why the enormous popularity when you can buy fried chicken in thousands of takeaways across the UK, you may ask?
Well, turns out that good fried chicken to us humans is like nectar to the bees! We love it, and just can't help ourselves.
The standard fare is the meal deal comprising of 4 battered chicken strips, chips, and a drink for £9 (about €12.50!), so it sure isn't cheap.
The reviews on same TripAdvisor are generally very good, but with some adverse comments on the value for money (not too surprising), and the consistency. When it's good though, it's really good tasty food.
The moral of the story is that good fried chicken is still a really popular food, but it does need some close attention to make it stand out from the crowd.
In any food business, consistency is the key to the business long term. And don't forget, if one customer complains, there are at least nine others who just walk. They say nothing to you but tell all their friends about their poor experience.
With such demand on the Cluck Truck, the risk is that the use of premium ingredients, consistently well prepared and cooked may fall by the wayside in the effort to meet demand. Time will tell!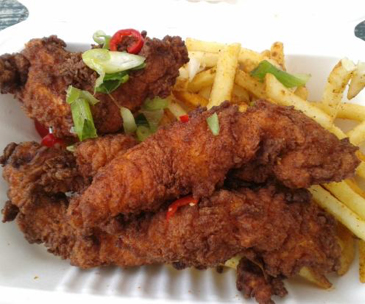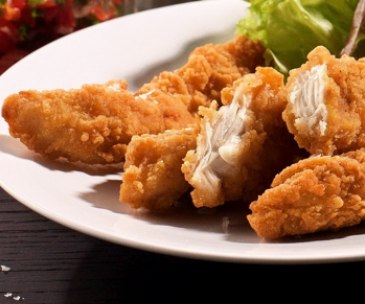 By the way, does their knobbly, crunchy, battered chicken goujon look familiar? Maybe a tad too long in the fryer!