See what the key products in the fast food takeaway sector sell for across the country and how your prices compare.
We've started a Food Facts Price Tracker in the independent fast food takeaway sector on the island of Ireland. We track prices on a basket of key products on a monthly basis in a selection of unidentified outlets across the four provinces, so you can see how prices are changing and how you compare. We have the data independently gathered from published sources, and report exactly what we find. Sterling prices are converted to Euros at the prevailing exchange rate. We only gather list prices and do not include special offers or promotions. Any information gaps are given an average value.
The basket average is €31.80 with a lowest being €29.00 and the highest being €33.60. Munster and Connaught/Ulster have the lowest basket price, followed by Ulster. Not surprisingly Leinster prices are highest, reflecting the higher business overhead costs such as labour, rent, and business rates.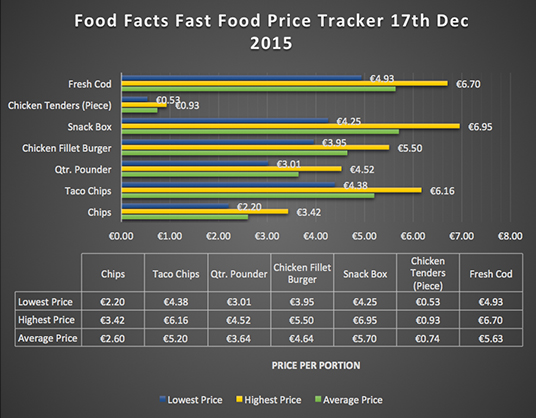 *For a copy of the full report with regional breakdowns, contact us here.